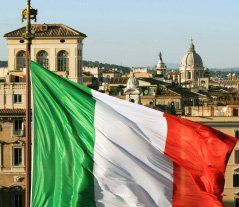 CICERO No. 3 - Anno MMX Introduction of Italy
Marzo 2010 - Vol. 1
Dear Trips2Italy's Friends,
Although winter's images are yet vivid in our eyes, spring is slowly approaching and Italy is ready to welcome you with a variety of offers.
You may have noticed that, in every issue of Cicero, we present an Italian site from the World heritage list. As a matter of fact, Italy stands at the TOP position of the list, with 44 sites! This time, let's talk about Leonardo DaVinci's Last Supper in Milan, a cosmopolitan city in the north of Italy. This painting recently gained new fame thanks to Dan Brown's novel, TheDa Vinci Code. Following the plot of the book, and visiting a number of the sites, including churches, museums and landmarks, would certainly be an original vacation idea, don't you think?
With great pleasure, we will then show you a region untouched by mass tourism and savoured by visitors in the know: Basilicata. Believe us; you will be quite curious about this wonder of nature and man combined. Basilicata is a hidden treasure, worth the effort of discovery.
The third article presents the National Museum of Italian Emigration, retelling the dreams and stories of emigrants through 150 years of history. This is a tribute to people all over the world, from USA to Australia, for anyone whose ancestors left the Bel Paese, looking for fortune or a little piece of happiness.
At last, some curious news about a singular lady living in Naples ends our taste of Italy.
Enjoy the reading, enjoy your virtual trip!
Tommaso De Poi
CEO Trips2Italy Group
This Cicero Newsletter features:
- MILAN : THE LAST SUPPER AND SANTA MARIA DELLE GRAZIE
- SOUTH OF ITALY : BASILICATA, A LAND OF MYTH AND FABLE
- ROME : THE NATIONAL MUSEUM OF ITALIAN EMIGRATION
- ITALY CURIOSITY : THE ITALIAN CAT LADY