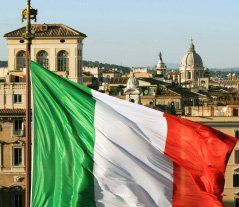 CICERO No. 1 - Anno MMX Introduction of Italy
Gennaio 2010 - Vol. 1
Dear Friend of Italy,
I really hope you will welcome with pleasure and sincere interest this first issue of "Cicero", our Newsletter. As you know, Marcus Tullius Cicero was a philosopher, statesman, and lawyer, as well as one of the greatest Rome's orators. He deeply contributed to the spread of Roman culture. For this reason we have chosen to call our publication "Cicero", whose aim is to inform, communicate, and remind you about Italy and her wonders.
We all know how easy is to collect information about Italy. Thanks to the web and the countless guidebooks, everyone is nowadays able to create and plan his own trip – if not all over the world – to lands traditionally chosen for tourism. Italy is surely one of these, as it has been welcoming travellers from centuries. Thousands of pages have been written about the "Bella Italia" but often guides unfortunately lack in describing some of the hidden gems of Italy. Italy is much more then Venice, Rome, Florence, or Naples. We strongly believe that everyone in his life should have the opportunity to visit these wonderful cities; but after a transcontinental flight to visit them, we are convinced that it is worth to add few miles to discover some understated Italian jewels. One of the aims of Trips2Italy Newsletters is to enlighten the world to these ignored beauties. The German novelist Hermann Hesse once wrote:
"Tourists travel where they are sure to find thousands of other tourists, where they find the same overcrowded places, the same café, the same music, the same throng, the same mass of people, the same press, the same lack of room and light (..)They behave this way, because according to the current fashion it is right to behave such a way. (..) and they all go there, where all the others go."
Trip2Italy believes this is not always true: we believe instead that some people do not want to be just part of the thousands tourists visiting Italy every year, simply doing what all the others do. We know that some travellers planning a tour to Italy have the desire to "experience" the land they are visiting. We hope to help you to be one of these.
Enjoy the reading, enjoy your virtual trip to our Country!
Tommaso De Poi
CEO Trips2Italy Group