Featuring a wide variety of geography – including mountainous, Alpine cities and stunning lakeside retreats – as well as modern cities, historic culture, and amazing sightseeing, Lombardy is a region bursting with unique things to see and do.
FESTIVALS & EVENTS
As with any region of Italy, Lombardy is home to a variety of unique festivals and events that are the perfect way for travelers to truly immerse in the culture and way of life of the area.
At the gorgeous and historic Abbey of Morimondo, a Medieval festival called Trecentesca di Morimondois held annually in May. Known internationally, this festival features a historically accurate reenactment of Medieval events such as jousting, battles, and more.
In the beautiful city of Como, travelers can enjoy Sagra deiLumaghitt, an extremely important tradition held each June on the Isola Comancina. This food festival is held in celebration of Saint John and features local foods such as polenta and snails, extravagant processionals, and a firework show which reflects and glistens off the waters of Lake Como.
Another historic event held annually in Lombardy is the Palio di Legnano. This horse race is held each May in the city of Legnano and celebrates the battle between Emperor Frederick Barbarossa and the Lombard League. During the event, the eight districts of the town are represented in the horse race and compete to be the winner.
SEASONAL ACTIVITIES
If traveling to Lombardy between August and September one of the most exciting activities to enjoy is Vendemmia. In Italy, Vendemmiais harvest season – a time of great festivity and celebration. Many festivals, events, and parties are held to commemorate an important time of year. Franciacorta, a hilly area of Italy located between Brescia and Lago d'Iseo, is a wonderful place to experience Vendemmiain Lombardy. From wine tasting to incredible feasts, Vendemmiais a cultural experience that celebrates one of Italy's greatest exports.
OUTDOOR ACTIVITIES
Boasting a variety of geography, Lombardy is a great region of Italy to visit if you hope to enjoy sporting activities or outdoor, natural experiences. From the Italian Alps to the Lake District to everything in between, travelers will love soaking up the wondrous nature of Lombardy.
In Italy's Lake District, travelers can enjoy a variety of water sports, including sailing. The stunning natural views of the area's gorgeous lakes such as Como, Garda, and Iseo, set the perfect backdrop for sailors to spend a memorable day on the water.
On the Stelvio Pass, a mountain road near the Swiss border, travelers will be in awe of the panoramic natural views of the Italian Alps. Along this stunning road, one can visit the Bormio hot springs – natural thermal spas that provide a truly one of a kind experience.
Another road that features wonderful natural views is the Strada Della Forra. A hidden gem of Lombardy, this road is widely considered by driving enthusiasts to be one of the world's best paths to travel. Connecting Riva Del Garda to Tremosine, this road features amazing views of Lake Garda, characteristic bends, and exciting tunnels.
For skiers and travelers looking for an Alpine escape, there is no place better than Val Camonica. Off the radar of most tourists, this area is highly regarded for its ski resorts, hiking paths, and stunning natural mountain views. A must-see for nature lovers, Val Camonicais an untamed section of Lombardy.
SHOPPING
A visit to Lombardy is not complete without a stop in the region's capital city of Milan. As the fashion capital of the world, Milan is home to some of the world's most luxurious shopping. The city's fashion district – marked by a square created by four famous streets (Via Monte Napoleone, Via Manzoni, Via dellaSpiga, and Corso Venezia) – is filled with a mix of designer fashion houses, luxury shops, boutiques, and more. Whether window shopping or going on a shopping spree, travelers will enjoy the vivid, bustling fashion district of Milan.
INDOOR ACTIVITIES
If visiting Lake Como, travelers are not limited to spending all day outside in the sun. The Villas on the lake are one of the area's most impressive features. Known for their spectacular gardens, ornate architecture, and rich history, these villas embody the beauty and elegance that Lake Como is known for.
FAMILY ACTIVITIES
Similar to other regions throughout Italy, Lombardy is a great place to visit with the entire family. There are a variety of activities that people of all ages will enjoy.
In Milan, young and old soccer fans alike will love watching a soccer game in San Sira, the city's main stadium. Known as one of soccer's best stadiums, San Siro features stunning architectural features and provides a once in a lifetime soccer viewing experience.
Snow bunnies of all ages will enjoy Bormio. Known for its skiing, the area also features amazing resorts, unique hot springs, and warm thermal baths.
UNIQUE EXPERIENCES
Lombardy offers a variety of experiences that are completely unique to the region. When traveling to Lombardy, visitors have endless options of things to see and do.
In the famous Brembana Valley are the San Pellegrino Thermal Spas. Perfect for relaxing after a long day of visiting bustling tourist spots, this luxurious retreat is located near the source of the famed water brand.
In Milan, travelers must see some of the city's most famous and unique sites. The Duomo of Milan, the city's most recognizable sightseeing location, is located in the heart of Milan and features some of the world's best architecture. Also in Milan is the world-famouspainting, "The Last Supper." Quite possibly the most important work of art in the world, this internationally known artwork is held in Milan's Pinacoteca di Brera.
For lovers of music and theatre, Lombardy offers special experiences that are sure to bring your trip to the next level. In Mantua, visit the Teatro Bibiena– a famous theater which transports visitors to the past and holds centuries of history. In Cremona, music lovers can soak up the history of violin craftsmanship. Home to Antonio Stradivari, the world's most renowned violin craftsman, Cremona is a symbol of classical music and the artistry that goes into high-qualityinstruments.
Architecture buffs will find one-of-a-kind destinations in Lombardy. In Citta Alta– a historic city that is known for being divided into two sections, alta(high) and bassa(low) – there are so many architectural features to appreciate. From the extremely well-preserved Venetian walls with views of Bergamo to the Duomo, PiazzoVecchia, and Tower of Gombito, the historic architecture of the city is staggering. In Pavia, travelers can visit the Covered Bridge of Pavia. This historic bridge is well known and loved in the city and provides a gorgeous view of the Ticino river.
Although Lake Como tends to dominate the conversation of Lombardy, Lake Garda is another stunning natural area of the region. Boasting amazing lakeside towns such as Sirmione, Desenzano Sul Garda, Limone Sul Garda, or Riva Del Garda, Lake Garda is a wonderful option for travelers looking to enjoy Lombardy's natural offerings.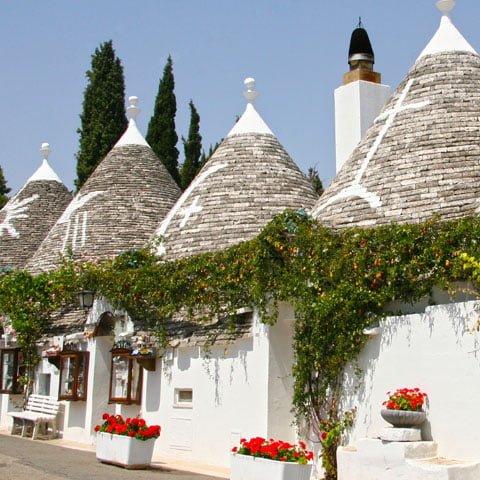 "Ciao Tommaso and Giulia, we have a wonderful trip. From Alberobello, Pade Pio, Monte S.Angelo, Sorrento, Capri, Amalfi, Ravello and more to see and do, you have plan everything."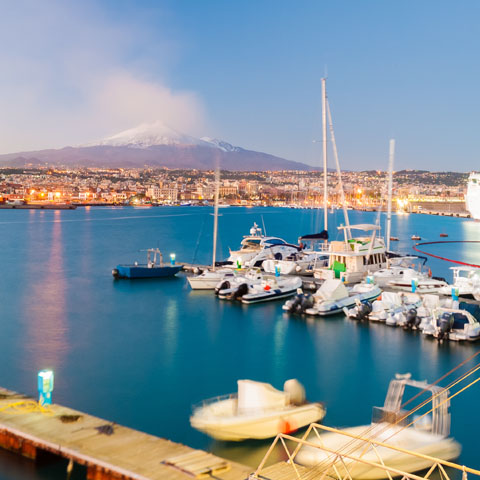 Dear Ana and Tommasso, We want to thank you for the wonderful customized trip to Sicily. It was a trip of a lifetime and a dream come true. Everything about the trip was perfect, including having Tommasso along with us. This was definitely a trip we will never forget.....it was perfect. TRIPS2ITALY is great and we would definitely recommend your agency to anyone wanting to see beautiful Italy and Sicily.