Throughout Lombardy, the culture can be described as very modern, especially in big cities such as Milan. Like other major cities in Europe and throughout the world, life in Lombardy can be fast paced and have a "hustle and bustle" quality.
Throughout the region, business is a cornerstone of the culture. Residents often prioritize work and focus heavily on achieving goals. This is fitting, as Milan – the capital of the region – is known worldwide as an epicenter of major industries such as fashion, business, finance, and transportation.
Despite much of the region being rooted in fast, modern ways of life, there are still smaller towns and country villages throughout Lombardy that manage to retain a business-first culture without sacrificing a connection to nature and the changing seasons. Smaller cities located throughout the region's hills, lakes, and plains retain a classic Italy charm.
Though the population of Lombardy is success-focused, they play as hard as they work. Locals love to enjoy their region's stunning geography by skiing in the breathtaking mountains, sunbathing on stunning lakeside beaches, and playing and watching soccer.
Because of the proximity of the Italian Alps in the region, skiing is a longstanding tradition in many of Lombardy's alpine areas. There is even a skiing tradition called Settimana Bianca(white week) during which locals take a weeklong vacation dedicated to skiing.
While Lombardy does not have oceanside beaches of its own, locals tend to flock in the Summer to the region's gorgeous lakes region to rest, relax, and recharge after a long year of work. In addition, they often travel to nearby regions such as Liguria or Emilia Romagna for their luxurious beaches.
As for Soccer, Milan is a European capital, featuring a stadium which serves two of the world's best soccer teams – AC Milan and Inter Milan. So of course, soccer is a huge passion for Lombards.
While the region's modern culture is often characterized as economyand industry focused, the history of Lombardy reveals the impact the region has made on Italian culture in a variety of ways.
ART
As with other areas in Italy, all throughout the region of Lombardy travelers will find an abundance of art and architecture to admire. Those with a passion and appreciation for art and history can lose themselves in Lombardy's 330 different museums – ranging from traditional art galleries to historic and scientific focused museums. Some key locations in Lombardy to enjoy art include Milan (location of The Last Supper), Mantua, Bergamo, and Pavia.
Lombardy is also the home of a couple of history's greatest painters – Caravaggio and Giuseppe Arcimboldo. Caravaggio was born near Bergamo, and his painting style is considered one of the most recognizable in the world of art. His masterpieces are spectacular and convey his strong opinions and feelings toward going against tradition. Arcimboldo was born in Milan, and his paintings – mostly portraits – were extremely imaginative, utilizing things such as fruits, vegetables, fish, and books to depict the person's features.
SCIENCE
Milan is home to the National Museum of Science and Technology – one of Europe's largest museums dedicated to those subjects. Within this historic museum, travelers can enjoy viewing one of the most important scientific collections in the world – historic models based on Leonardo da Vinci's drawings.
Lombardy is also the birthplace of Alessandro Volta, one of the biggest names in science. Volta not only invented the batterybut also discovered the usage of natural gas as a propellant for light. If visiting Como, Volta's hometown, one will find a variety of buildings, squares, and other references to him throughout the city.
LITERATURE
As with other areas throughout the world, Lombardy's culture has been influenced by the literature written by its citizens. Milan, the region's capital, is the home of a few extremely influential writers and philosophers.
Alessandro Manzoni, the writerof the historicnovel "The Betrothed," was born in Milan and is heralded worldwide for this masterpiece of literature which depicted a particularly unstable portion of Italian history and how it affected the culture of Italy's people. In addition, Manzoni is celebrated for his poetry.
Cesare Beccaria, a well-known philosopher, politician, and criminologist, was also born in Milan. His most notable work, "On Crime and Punishments," made him one of the most important minds of the Enlightenment.
A repeat Nobel Prize contender, Alda Merini, was a Milan native, and she is known as the most important female in Italian literature. Her novels and poems are known for their idealism.  
MUSIC
Lombardy has a long history of producing famous musicians, and its culture reflects a love for music and musical history.
While Milan is the epicenter of the regions music scene, cities like Lecco, Lodi, Varese, Pavia, and more also have rich musical traditions. For example, Mantua was one of the founding cities of opera and classical music and Cremona is the birthplace of the violin. Antonio Stradivari, born in Cremona, brought the craft of violin-making to the highest level, and the city is still known for its amazing violin craftsmanship.
Famous Lombards who made an impact on music include Gaetano Donizetti – an opera composer known for both comedic and dramatic operas, which heavily influenced a transitional stage of the art, Giorgio Gaber – a songwriter who became popular for his highly intelligent lyrics and poetic timing, Claudio Abbado – a world-famoussymphony conductor, and Adriano Celentano (AKA the Molleggiato) –  an acclaimed singer, musician, and composer.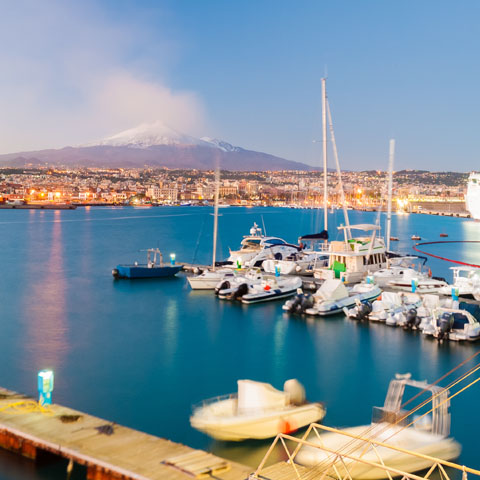 Dear Ana and Tommasso, We want to thank you for the wonderful customized trip to Sicily. It was a trip of a lifetime and a dream come true.