While there is various regional cuisine throughout Italy, the fare of Lombardy is the probably the most varied. This region offers a cuisine that is provincial, differing from one city to the next. The distinctions are not only due to the various ingredients available, but also for the diverse preparation methods.
Lombardy, with its region capital of Milan, is considered to be the best region for enjoying various types of risotto. Rice is one of the few staples of the regional cuisine, and in general, all the locals are masters in the art of making risotto, which has elevated the standard of this dish throughout the region, especially in Milan.
Various provinces of the region have directly influenced the most common ingredients and the way they are prepared. Piedmont influences the west side of the region for the prevalence of rice in several courses. The cuisine of Emilia Romagna in northeast Italy influences Mantua with the extensive use of pasta. The Veneto cuisine influences Brescia and Bergamo with the use of polenta. There are also Helvetic influences from the northern part of the region, especially the Valtellina area. This region is a great place for foodies to discover new dishes, as well as new versions of old favorites.
APPETIZER
To begin a meal in Lombardy, locals often start with Bresaola. This cold cut is a favorite that is often envied by others because it is lean, particularly savory, and it is adaptable to nearly every kind of diet. Bresaola is a typical cold cut of the Valtellina area that is salted, air-dried beef. The preparation of this kind of cold cut is a peculiarity of the Valtellina area, but it can be found throughout other regions of Lombardy as well.
Meat is a staple of the cuisine of the region. Two of the most renowned types of cold cuts are the flavorful Salame Crudo di Varzi (which undergoes a long aging process, adding to its delicious flavor) and Salame di Mortara (which is a unique and tasty mix of goose and pork meat).
FIRST COURSE
Following appetizers, the first course in the Lombardy region is typically made up of either risotto or pasta.
When in Milan, Risotto alla Milanese should not be missed. This saffron based rice has a delightfully creamy texture, which is in part due to the abundant use of butter. Butter is a very popular ingredient in Lombardy cuisine.
When in the Lake district, Lake Como offers Risotto con i Filetti di Pesce Persico. The is a one-of-a-kind fish-based dish. Perch are plentiful in Lake Como, and this dish features deliciously delicate fillets as a main feature.
Moving on to pasta, when in the city of Mantua, one should try Tortelli di zucca. This popular type of pasta similar to ravioli. It is filled with deliciously seasoned and cooked pumpkin, and will be topped one of two different ways. Some prefer to top the dish with grated parmesan and a spoon of melted butter, while others prefer a light topping of various types of tomato sauces.
Another favorite kind of pasta in the region is Casoncelli. This dish contains tiny, stuffed pasta that are filled with a mixture of sausage or beef simply served with grated parmesan and butter, or in a deliciously seasoned broth. Variations of this dish can include pears, raisins, garlic and spinach.
Pizzoccheri is a unique, ribbon-type of pasta made in the Valtellina area. This pasta is similar to tagliatelle pasta, but it is made with a mixture of buckwheat and wheat flour. This earthy pasta is cooked with cubed potatoes and greens, typically either Savoy Cabbage or Swiss Chard. The pasta is sautéed with local cheeses and onions and is often finished with garlic sautéed in butter.
SECOND COURSE
A variety of meat and fish are the stars of the second course in Lombardy. A favorite dish is Cotolette alla Milanese. This perfectly seasoned, breaded veal cutlet is a must for every meat lover that spends some time in Milan. It is cooked bone-in and fried in savory, delectable butter.
Polenta Taragna is another dish unique to the region. This type of polenta is a popular main dish in the area of Bergamo. This polenta is made with buckwheat and yellow corn flour, and then mixed with melted local cheese.  It is typically served with thick slices of cold cuts or various sausages.
A favorite seasonal dish enjoyed during the winter is Cassoeula. The traditional version of this dish uses generous portions of pork and pork scraps. The meat is boiled together with cabbage, onions and celery in a casserole style. It is served hot and is often accompanied with tender pork ribs or various types of sausages.
Ossobuco is another traditional second course in Milan. This dish is made with sliced veal shanks that are perfectly sautéed with flour and butter before being slowly cooked with tomato sauce.
The Misultitt are typical fish found in Lake Como and are also known as Agoni. These fish are liberally salted and dried directly by the sun. The flavor imparted in this preparation method makes polenta (known for having a delicate flavor) an ideal accompaniment. This dish is served in the area of Tremezzina and at local lake district restaurants.
SIDES
Lombardy carries an impressive variety of cheeses, or Formaggi. The culture of cheese is strong in the region, especially in the Alpine areas, where it has been an important nourishment for the long winter season. Some of the most renowned cheeses in the region are Bitto, Provolone of Valtellina, Taleggio, Robiola, and many others.
A young Bitto is best paired with a full-bodied Red wine from the Valtellina area. Robiola is a creamy-white cheese, made of sheep, goat and cow's milk with a tough rind. The taste is mild and tangy and can be used in desserts, in first courses with pasta sauces, or in appetizers with honey and jam.
DESSERTS
In Lombardy, there is nothing like filling up on dessert following a fantastic meal. A favorite in the Lombardy region is Panettone. This typical sweet bread loaf is a specialty of Milan, especially during the Christmas season. Although this dessert is now well-known around the world, several bakeries in Milan still produce the loaves of sweet bread one by one, in a very artisanal way. Panettone is truly one of the many jewels of the city.
Other desserts to try are the notable dessert candy, Torrone. The nougat of Cremona is one of those sweets that have become a tradition of the entire city. Torrone is also considered to be a specialty of Cremona because some say that its name refers to Torrazzo, which is the most famous tower in the town. The candy is also known to be a holiday favorite during the Christmas holidays.
Sbrisolona is a delightful dessert directly linked to the traditions of Mantua. This delicious dessert is based on almonds, butter and sugar, along with very fine ground cornmeal. It is famous all over Italy and is often enjoyed at breakfast.
STREET FOODS
Nearly every city around the world has a signature street food or two, ideal for eating on the go while sightseeing, people watching or while relaxing on a bench.
Panzerotti are traditional Apulian street food, but they are also enjoyed throughout the streets of Milan. Panzerotti are similar to calzones. They are pockets of dough filled with mozzarella, tomatoes and various other fillings that are sealed and deep fried to a perfect golden-brown.
The Panini is an Italian sandwich that is another popular street food in Lombardy. Some would say the diverse ingredients have made the making of Paninis a type of art form. This sandwich is considered a typical lunch for industrial workers in the region.
WINES
Lombardy is known for a variety of sparkling wines, full-bodied red wines, and a few white wines. The region is ideal for growing, so the vineyards are plentiful. The wines produced range from still to effervescent to sparkling, and they can be made with indigenous grapes as well as French varietals, some of which took root over a century ago. Most of these unique wines are exceptional and somewhat underappreciated.
In general, these wines are not sold outside of the Lombardy region. If the wine varieties do manage to make it across the border, they are quickly purchased by knowledgeable Swiss consumers who appreciate the wonderful offerings.
There are two DOCG wines produced in Lombardy. The first is Franciacorta from around Lake Garda and Lake Iseo, and the second is Valtellina Superiore, produced just north of Lake Como.
The red wines from Valtellina have been well regarded since pre-Roman times. They are made primarily from the unpredictable and delicate Nebbiolo grape. They are outstanding wines that have achieved the Superiore DOCG designation, which has the sub-regions of Sassella, Grumello, Valgella, and Inferno.
Many of the regular Valtellina wines are light and refreshing. Whereas wines made at higher elevations that are denoted "Valtellina Superiore" develop more body and have a higher concentration of alcohol. The winemaking process is facilitated by a minimum of two years of aging in oak barrels. One of the defining characteristics of wines from the Valtellina Superiore area is that the grapes must be harvested by hand. This is due to the steep terrain upon which the grapes grow. These wines are light to medium bodied.
From the Province of Brescia and under the Franciacorta name are red, white, and sparkling wine varieties, as well as Pinot Nero or Pinot Noir, and Pinot Grigio. The red wine is a blend made of Cabernet Franc, Barbera, Nebbiolo, and Merlot grapes. The white and sparkling wines are made from Chardonnay and Pinot Grigio grape varieties. Spumante is a famous sparkling wine that is produced in great quantity in eastern portions of the region.
The western shores of Lake Garda are home to another leading wine production area. The crisp white Lugana is made from one of the very best Trebbiano grapes. These grapes are produced near the lake region and have been exported in recent years. Another local and treasured wine is the Chiaretto, a rich-colored rosé that is both light and dry. In addition, a local grape variety called Groppello is now being exported, and it produces tannic wines with delightful berry flavors.
There are also excellent wines from the Oltrepò Pavese, the area of the Po River Valley in southwestern Lombardy. This DOC area has three hearty reds available with interesting names, Barbacarlo, Buttafuoco, and Sangue di Guida or The Blood of Judas.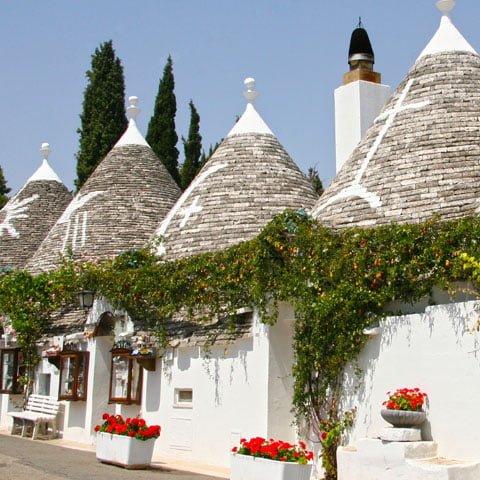 "Ciao Tommaso and Giulia, we have a wonderful trip. From Alberobello, Pade Pio, Monte S.Angelo, Sorrento, Capri, Amalfi, Ravello and more to see and do, you have plan everything."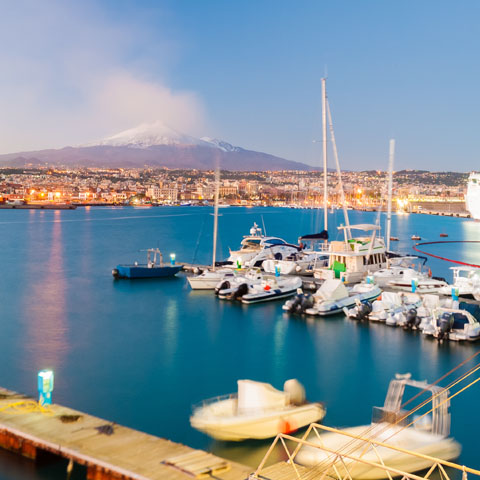 Dear Ana and Tommasso, We want to thank you for the wonderful customized trip to Sicily. It was a trip of a lifetime and a dream come true. Everything about the trip was perfect, including having Tommasso along with us. This was definitely a trip we will never forget.....it was perfect. TRIPS2ITALY is great and we would definitely recommend your agency to anyone wanting to see beautiful Italy and Sicily.