Sicily – Things to Do
---
The island of Sicily is filled with interesting and exciting things to do, making it the perfect destination for a trip to Italy. One day can be filled with skiing down Mount Etna, Europe's largest active volcano, and the next can be spent scuba diving or snorkeling the pristine and untouched sea waters off the Sicilian coast. Some of the world's most treasured ancient monuments can be found in Sicily, as well as modern, world-class golf courses. Meals can include traditional Italian dishes such as Pasta alla Norma, featuring fresh tomatoes, eggplant, basil and ricotta salata cheese, or Arab-inspired arancini, featuring spices and flavors from Sicily's multifaceted history. Modern architectural marvels stand next to Greek and Roman ruins from days gone by. From its landscape, to its cuisine, to its identity throughout history, Sicily is a paradise characterized by the fusion of the many cultures that helped create it.
OUTDOOR ACTIVITIES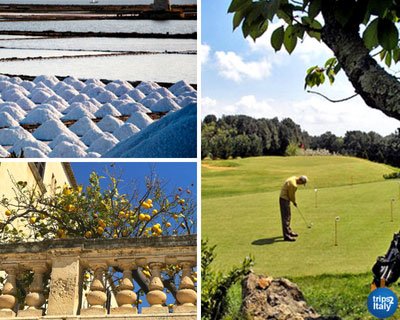 Sicily's main attraction is its temperate climate, fantastic beaches, lush flora, and stunning landscape views. An island off the southern toe of Italy, Sicily offers outdoor enthusiasts a little bit of everything, including rolling hills with vineyards and farmhouses, sparkling waters alongside soft sandy beaches, hiking trails, and live volcanoes.
It's easy to enjoy a variety of sporting activities thanks to Sicily's diverse landscape. Scuba diving off the beaches of Sicily's rich coastline is unparalleled. Idyllic coastal destinations such as Favignana or San Vito Lo Capo offer divers crystal blue waters and a wealth of marine wildlife to experience. Skiers can enjoy the view of the sea while they ski down any of Mount Etna's ten ski slopes. The lava that has settled from this active volcano provides a smooth, even surface, and the Mediterranean location of the slopes offers a warmer climate. Sicily is also home to wonderful golf courses in locales such as Ragusa and Agrigento, which features a unique hole right on the beach. For a more rustic sporting experience, hiking the Necropolis of Pantalica, a UNESCO designated world heritage site, offers a chance to get off the beaten path and see 5,000 ancient tombs firsthand.
People can also enjoy the outdoors of Sicily in other ways that highlight the region's splendid natural wonders. From October through March, strolling the vast agrumete (citrus fruit fields) can be beautiful and relaxing, and joining in the rural tradition of handpicking fragrant oranges and lemons right off the trees is a real treat. Or visit the marvelous Alcantara Gorges, a series of amazing canyons that were created by the collision of lava flows with the water from the river Alcantara. Another unique way to experience Sicily's outdoors is by riding a donkey, which was a common mode of transportation between rural towns long ago.
CULTURAL ACTIVITIES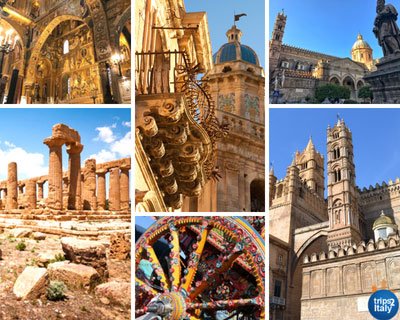 Thanks to the region's long history of reigning cultures—first the Greek and Romans, then the Arabs and Normans, and lastly the French, Spanish, Germans and Italians—the art, architecture, and cultural scenes of Sicily are abundant.
Italy is well known for its world class museums, and Sicily is no exception, offering interesting and unique museums unlike any other in the country. The Antonio Pasqualino International Museum of Puppets, located in Palermo, displays a collection of puppets from across the globe, highlighting Sicilian pieces of traditional puppetry called pupi. Also located in Palermo is The Museum of Carretto Siciliano, or Sicilian Cart. This seemingly simple invention was actually paramount in the advancement of the culture and traditions of the entire region, making the Museum of Carretto Sicilianoa valuable asset for understanding Sicily's deep-rooted history. From more unique museums such as The Museum of Salt in Trapani and the Ex-Stabilimento Florio – Tonnara di Favignana, which details the history and importance of tuna fishing throughout the region, to mainstream history museums such as The International Documentary Center of Mafia and the Galleria Regionale della Sicilia, there are quite literally centuries of history and art to be had on the island of Sicily.
Things to do in Palermo include the Palazzo dei Normanni, otherwise known as the Royal Palace of Palermo, and the Cappella Palatina, home of the finest exhibition of Arab-Norman art. Both sites are stunning examples of Sicily's contribution to the worlds of art and architecture. In Agrigento, the famous Valley of Temples is an awe-inspiring archeological and UNESCO world heritage site that is one of the world's most outstanding examples of ancient Greek art and architecture. For a truly captivating experience, watching a classic play at the Greek Amphitheater of Siracusa can make viewers feel as if they've transported back to the ancient days of Sicily. This open-air, ancient theater is steeped in tradition. For more traditional Sicilian sites, the various historic Duomo's located throughout Sicily can be an educative experience. Not only are the Duomo's ornate and complex in their architecture, but they also reflect the important religious history and culture of the island.
Other cultural activities in Sicily include seeing an opera at Palermo's famed Teatro Massimo, taking a ceramic workshop in Caltagirone, or visiting one of the many historic markets.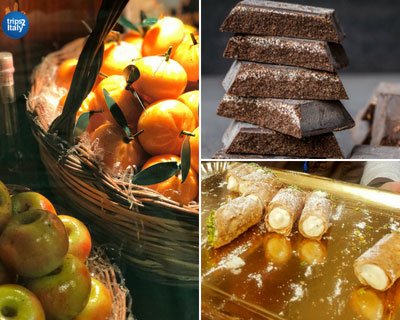 CULINARY ACTIVITIES
It has been said that to truly experience a culture, one must taste the food. Sicily's cuisine is markedly differentiated from its Italian counterparts by the way the cuisine is influenced by the variety of cultures that make up the region's history.
Known for its sweet Marsala wines, a tour of the Sicilian wine country is an ideal activity for wine lovers. The Sicilian capital for sweet wine, Marsala, offers a variety of cellars and vineyards. The rural landscape and sweeping views are the perfect pairing for a glass of wine and a dose of local tradition.
For chocolate lovers, Modica offers unique Aztec chocolate, representative of the Spanish history still present in modern day Sicily. The chocolate served in Modica is deliciously unique in texture as well as taste, at times offering a bit of spiciness. Sicilian chocolatiers still craft this confection from variations of the ancient Aztec recipes left behind.
An essential aspect of Sicilian culture are the Sagre, which are food festivals that are prevalent throughout nearly every town in Sicily. From the Sagra Dei Cannoli (cannoli food festival), to the Sagra Della Ricotta e Formaggio (ricotta and cheese food festival), to the Sagra Del Fico (fig food festival), Sagreoffers travelers the chance to experience a vast array of Sicilian food and culinary traditions.
FESTIVALS
A region with a rich, religious history, Sicily is very keen on tradition. To truly experience the life and culture of Sicily, consider attending one of the island's many festivals. Ranging from feasts, to processions, to total celebrations, festivals in Sicily capture the local customs and way of life perfectly.
The Carnevale di Acireale is one of the most important and oldest festivals on the island. Held in Acireale in February, this carnival features a series of larger than life floats adorned from top to bottom with flowers. Other notable festivals to attend are the Festa di Sant'Agata, a feast held in February in Catania as a celebration of Saint Agatha, the Palio dei Normanni, a medieval festival celebrated in August, and the Infiorata di Noto, a weekend exhibition of masterful street art in which a street in Noto is covered completely with flowers.
There is an almost infinite list of fantastic activities to enjoy in Sicily. The island is filled with culture, history, and stunning views.