Sicily - Food & Wine
---
Sicilian cuisine, widely regarded as one of the top regional cuisines of Italy, is as diversified and rich as its history and culture, boasting dishes with multicultural influences and decadent flavor profiles. Over the course of the region's long history, a variety of cultures laid claim to Sicily, embedding themselves into the heart of its modern-day culture in the form of the region's unique food offerings. Recipes in Sicily are highly influenced by the French, Greek, Arab, and Spanish cultures that previously occupied the region, giving those who visit on an Italian vacation a chance to truly taste Sicily's rich and varied history.
In addition to a mixture of cultural influences, the island's cuisine is characterized by the natural flavors of its local, seasonal crops. The land in Sicily is extremely fertile thanks to the region's hot yet dry climate which serves as the perfect place in which grow local produce such as olives, grains, citrus fruits, figs, grapes, almonds, and more. The neighboring Mediterranean Sea provides freshly caught seafood, which serves as the main core of the region's coastal cuisine. However, inland guests can expect robust dishes comprised of poultry, veal, and lamb with complex flavor profiles as well.
Sicilians follow one extremely important rule in their food preparation – always eat what's in season. When dining in Sicily, every dish served at each meal throughout the day will reflect the local produce that is most fresh at that time of year. Throughout Sicily's multi-course traditions, travelers will delight in a full-flavored culinary experience that is varied, versatile, and directly reflective of the region's unique identity.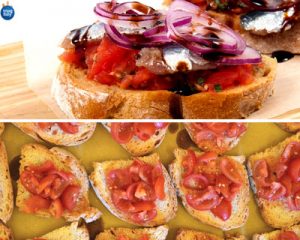 APPETIZERS
Sicilians welcome guests to the meal with quick bites before the arrival of the first course. The usual appetizer is a delicious, freshly baked crostini topped with a medley of local vegetables, spiced with local seasonings. Often crostinis will also include freshly caught seafood such as anchovies, tuna, or sea bass. Another common appetizer is an olive assortment that is served with tomatoes or other fresh vegetables, drenched in fragrant olive oils made from olives grown in Sicily. The quintessentially Sicilian dish, Caponata, can be considered an appetizer or serve as a second course, depending on where in Sicily one finds themselves. This traditional dish of Sicily is a cooked vegetable salad, containing eggplant, celery, capers, onions, olives and tomatoes and is topped with a slightly sweet yet sour sauce. From the outset of the meal, travelers will become immersed in the locally grown crops and begin to understand the identity of Sicilian cuisine.
FIRST COURSE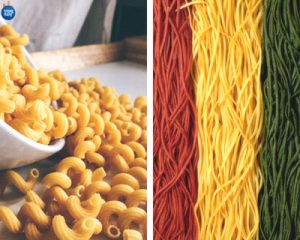 When the first course arrives, guests will know they are in Italy, as the star of the first course is, of course, pasta! The local Sicilian tradition of pasta making runs deep, with each family having a long history of unique traditions usually created over time by the family "Nonna" (Gandmother).
Generally, pasta dishes in Sicily are crafted with spaghetti and maccheroni, the most common forms of pasta used on the island. These fresh pastas are tossed with an abundance of local seafood such as swordfish, anchovies, bass, cuttlefish, and lobster and topped with delectable sauces.
There are a few iconic pasta dishes of Sicily, modeled after the region's abundant crops and specific flavor profiles. The most famous, Pasta Alla Norma, was created in honor of the famous opera entitled "Norma" by Vincenzo Bellini. In this dish, pasta is mixed with truly Sicilian ingredients- locally grown eggplants and tomatoes with creamy ricotta cheese, flavorful olive oil and a blend of Sicilian spices.
SECOND COURSE
The second course in Sicily typically provides the protein of the meal, often featuring fish, shellfish, poultry, veal, lamb, or protein-rich vegetables.
Given the region's location off the coast of Italy, seafood is a main feature in most second courses. A dish not to be missed, Agghiotta di Pesce Spada, most famous in Messina, is a unique Sicilian meal comprised of swordfish steaks with a tomato sauce made with raisins, pine nuts, and capers. The result is a dish that perfectly blends salty and sweet.
Another well-known second course, mostly eaten further inland, is Vitello al Marsala (Veal Marsala). Americans may have experienced Veal Marsala and its variation, Chicken Marsala, in the states, but to experience this dish in its originating home land is a memorable occasion for any foodie. Marsala dishes combine the sweetness of local Marsala wine with earthy mushrooms to create a sauce that is drenched over thin cuts of veal or chicken, served alongside rice or pasta.
Eggplant often stars in second course dishes as opposed to meat. Pasta N'cascaiata and Timballo Alla Siciliana are both filling and nutritious recipes in which eggplant is layered with other vegetables as well as spices and tomato sauce. They are baked in an oven, where the roasting brings out the deep, delicious flavors of the vegetables.
SIDES
Second courses in Sicily are typically served with traditional sides, which usually respect the natural flavors of the region. From vegetables such as eggplants and peppers simply dressed with a touch of spices and olive oil to cheese plates filled with tasty pecorino, ragusano, caciocavallo, toma, and provolone cheeses, Sicilian sides are simple yet flavorful.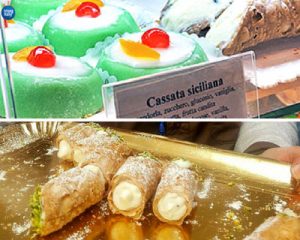 DESSERTS
After a full meal of savory and perfectly salted dishes, travelers can end their meal with a sweet delight. The most traditional offerings on a Sicilian dessert menu are Cassata Siciliana and Cannoli.
A staple in nearly every Sicilian bakery, Cassata Siciliana is a decadent sponge cake that is soaked with liqueur or fruit juices and layered with ricotta, candied fruit, marzipan, and slices of citrus such as lemon or orange.
Cannoli, which is served in a lot of American-Italian communities in the U.S., is a dish made of fried pastry that has been shaped into tubes and filled with creamy, sweet fillings that are often made with ricotta.
Granite Siciliane serves as another essential Sicilian dessert. Made with water and sugar, this semi-frozen dish is similar to sorbet or Italian Ice. Desserts in Sicily are characterized by the region's fresh fruits as well as creamy ricotta cheese.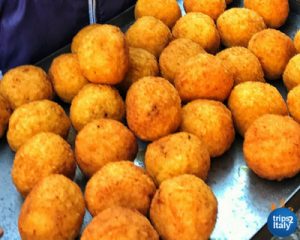 STREET FOOD
It is often said that Sicily must be experienced through its streets, and the cuisine of the region is no exception. On the streets, locals often prepare and serve up affordable, portable, and most importantly, delicious foods from small carts or food trucks for those on the go.
One can expect foods like sfincione, the Sicilian pizza, which is rectangular and thick, covered with classic toppings such as vegetables and cheese. Another popular street food, arancini, is a must-have experience. These rice balls are filled with various flavors of fillings, from peas and mozzarella to meat sauce and olives, before they are rolled in breadcrumbs and fried to create a crisp, golden crust.
WINE
As with any of the regions of Italy, Sicilian cuisine would not be complete without mentioning the unique wines that characterize the island.
The most popular variety of wine in the region is Marsala. This sweet wine is named after the city in which it is primarily produced. It is an ideal dessert wine but is also included in famous savory dishes across Sicily.
The island is home to numerous varieties of both red and white wines. From Nero d'Avola and Frappato, both flavorful and characteristic of classic Sicilian wines, to Cerasuolo di Vittoria, one of the most renowned reds of Sicily, ruby wines of the region are sure to impress alongside hearty meat courses. In addition, white wines such as Etna Bianco and Bianco d'Alcamo serve as the perfect pairing for local seafood dishes.
As for dessert, extraordinary sweet wines such as Moscato di Pantelleria and Malvasia delle Lipari are the ideal companion for sweet cakes and crumbly cookies.