Things To Do In Tuscany
---
On the west side of Italy along the edge of the Tyrrhenian sea sits one of Italy's most popular and well-loved regions. Marked by quintessentially Italian cities such as Florence, Pisa, and Siena, and known for its sprawling hillside views, Tuscany has solidified itself as a go-to Italian vacation destination for all types of people. Grand in size and multifaceted in its geography, culture, and history, the Tuscan region of Italy provides many exciting, fun, and memorable activities.
SEASONAL ACTIVITIES
Known for its gorgeous countryside and unparalleled wine country, Tuscany offers a wealth of outdoor activities that celebrate the rich, fertile land and the wonders of the seasons.
During September and October, the world-famous Tuscan wine region of Chianti begins its yearly grape harvest. Hardworking locals spend the months harvesting perfectly ripe grapes for the world-renowned wines crafted from the region. The harvest is celebrated in nearly every town, from Impruneta and Greve In Chianti to Montescudaio and Montalcino, by huge feasts, festivals, and special events.
To get in touch, literally, with the wonders of Earth's bounty, mushroom, chestnut, and white truffle picking is another popular event during September and October. Next to delicious wine, there is nothing that defines the Tuscan culture more than food. The richness of the fertile soil allows for a bountiful growth of these rare crops, which are searched for and harvested throughout the deep woods and forests.
If tasting rather than harvesting is preferable, the Tuscan locals celebrate their cuisine through Sagre, food festivals that are dedicated to specific local products. Usually held during March through November, guests can attend these festivals and try an array of foods. There is a Sagra for nearly everything, from truffles and seafood to steak and boar.
OUTDOORS & SPORTS
With its stunningly eclectic geography, Tuscany lends itself well to a variety of outdoor activities and sports. Most notably, the Tuscan hills and mountains set the ideal stage on which to hike and ski. No matter what skill level of hiking one desires, the hills of Garfagnana, Lunigiana, Alpi Apuane, Maremma, and Mugello offer varying levels of difficulty and a wide variety of wonderful views to take in along the way. A hike in Tuscany can reveal everything from mountain views of the Alpi Apuane to a panoramic view of the coast along the path of the Abbey of San Rabano. Skiers rejoice in Abetone, the ski resort of choice by Tuscan locals. Two hours outside of Florence near the border of Emilia Romagna, Abetone offers slopes that appeal to both expert and amateur skiers alike.
The roadways are said to be the best way to experience Tuscany, and L'Eroica, a non-competitive cycle event in October, allows those over the age of 15 to do just that! Cruising along the gravel roads of Tuscany transports cyclists back to a time where epic cycling battles would take place.
For a more relaxing way to enjoy Tuscany's outdoor delights, Saturnia's open air spas are an ideal choice. Also, Le Cascate Del Mulino, known as the windmill falls, is located in the Province of Grosseto. This natural wonder is an open-air thermal bath that operates day and night and is free to the public.
INDOORS
For indoor enjoyment, Tuscany stuns with its long list of educational museums and historic monuments. Located in Florence are some of the world's most highly regarded museums, including the Uffizi, Accademia, and the Museum of Bargello. These museums hold some of the greatest accomplishments of art and sculptures, including Michelangelo's statue of David. The monuments that Tuscany has to offer are equally as impressive. Nearly every town, from Florence to Siena, has an elegant cathedral to explore and admire, and the city of Pisa boasts the legendary leaning tower.
A stroll through Tuscany's world class museums or a visit to any of its iconic monuments is truly an adventure through the evolution of Renaissance art. So much so that Tuscany is referred to fondly as, "The Cradle of the Renaissance."
For a truly enchanting experience, listen to the Gregorian chants in the Sant'Antimo Abbey. Home to monks who preserve the ancient practice of meditative chanting, this holy space honors the religious traditions that are so near and dear to the hearts of Tuscans.
FESTIVALS & EVENTS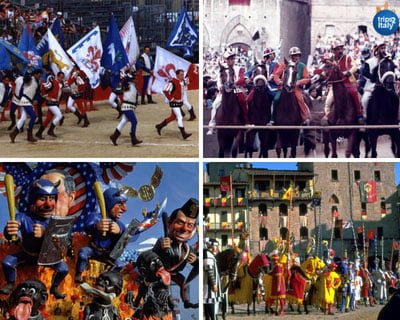 Thanks to the many great cities that comprise Tuscany, there is a special event or festival to be experienced during nearly every month of the year. Ranging from religious, to food focused, to simply a celebration of a town, festivals are a key aspect of the Tuscan culture that offers everyone the chance to enjoy Tuscan life.
In the heart of Tuscany, the city of Siena celebrates the Palio, two monumental horse races which honor the Madonna di Provenzano in July and the Assumption of Mary in August. This competition pits up different contrade, or districts, of the city's neighborhoods against one another by choosing a horse and jockey to represent each district. The event is so spectacular, it is broadcast on television and is celebrated with many feasts, parades, and banquets. Held at the Piazza del Campo in Siena, this event attracts thousands of spectators and encapsulates the pride and passion the Tuscan people have for their home.
Another massive event held in Tuscany is the Carnevale di Viareggio, widely considered to be the most remarkable carnival celebration in all of Europe. For the last 144 years, every February the streets of Viareggio are flooded with enormous, colorful, paper-mache floats, residents in amazing costumes, and hordes of confetti. Parades, held on Sundays, march through Viareggio's promenade during the four-week event, as a testimony to the artistic ability and commitment of the Italian people.
For sports fans, there is nothing like experiencing Calcio Storico Fiorentino, one of Tuscany's oldest traditions. A traditional Italian sport, this game blends ancient soccer with rugby and wrestling to create a one of a kind sporting event. Florence holds a tournament each year in June, during which four teams (each representing a part of Florence) dress in medieval costumes and compete for neighborhood glory.
During June and July, a three-week long music and cultural festival, Pistoia Blues, is held in the historic center of Pistoia. International superstars have been known to take the stage at this event, making it a must-see for music fans.
ONLY IN TUSCANY
For those looking for a unique Tuscan experience, the region offers a wide variety of activities that highlight Tuscany's best qualities and appeals to large groups, private groups, and families.
Whiz along the winding roadways of Tuscany on a Vespa, the iconic symbol of Italian design and practicality. Take a painting or drawing class and create a work of art to take home. Attend a hands-on cooking class and begin to learn the mastery behind simple, rustic, Tuscan cuisine made from fresh, local ingredients. Visit any of the many fashion outlets in Florence, ranging from affordable styles to designer pieces. Indulge in some Italian gelato in Florence's historic center, home to some of the country's most well-known and well-loved gelato shops in all of Italy.
The wonder and excitement that Tuscany has to offer is limitless. From delicious cuisine and world class wine to expansive hillside views and bustling cities. With art, history, and culture at the heart of this region, Tuscany is the ideal place for vivere l'Italia!