Tuscany - Food And Wine
---
Tuscany is synonymous with beautiful landscapes, cultural and artistic richness, and romantic cities. The region is also synonymous with delicious food and wine. Tuscany's culinary tradition is famous all over the world, with many tourists taking an Italian vacation to this region exclusively for the gourmet food and wine.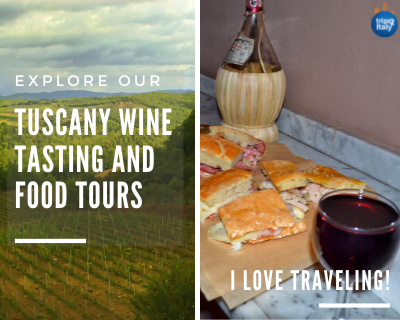 Tuscan cuisine promotes traditional cooking methods, together with the use of basic ingredients and simple condiments. The result? Extremely tasty dishes that will have you looking forward to the next meal.
The roots of Tuscan cuisine are related to the poverty of the old country life, on one hand, and in the opulent lifestyle of the nobles, on the other hand, with this unusual blend creating a "poor" yet exquisite cuisine.
The "poor" ingredients, linked to the peasant lifestyle, are easy to identify. The main ingredients and also the supreme pride of this land is the olive oil, a type of fat preferred by the locals over lard or butter. Another important ingredient is the bread, prepared in thousands of shapes and consumed freshly baked, stale or crushed. A peculiarity of the Tuscan bread is the lack of salt in the dough, which is characteristic to enhance the flavor of many typical products such as salami, sausages, and cheeses.
Bread is also the base of many local dishes, such as Panzanella, a simple dish similar to a salad, made with stale bread and fresh tomatoes, cucumber, red onions, basil, and olive oil. Ribollita, a typical Tuscan soup, is another recipe that uses stale bread as a base.
The noblest element in the Tuscan cuisine is, without a doubt, the wine. There are countless wineries in the region, with their selection of wines suiting all tastes and budgets. Apart from the wine, the Tuscan cuisine also uses other privileged ingredients, such as truffles and Porcini mushrooms.
Appetizers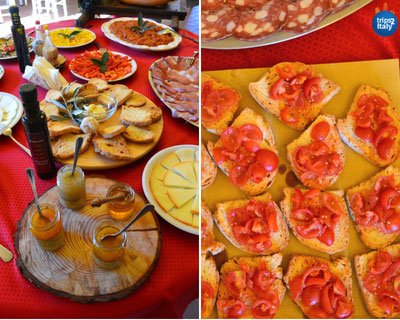 Traditional Tuscan meals start with an abundant tagliere rustico, literally a wooden cutting board or a tray full of countless varieties of cold cuts including various types of prosciutto and sausages, cheeses and other delicious foods such as croutons with chicken liver pate or bruschetta with olive oil.
Finocchiona sausage, prepared with ground lean pork and lard and flavored with fennel seeds, is probably the star of this dish. Finocchiona was born in the provinces of Siena and Florence and it has medieval origins. Originally, butchers flavored this type of sausage with fennel seeds because they were less expensive compared to other spices, and also because the intense flavor covered the unpleasant taste of rancid meat or wine.
Today, "Finocchiona" is still prepared according to tradition but only with meats of the highest quality that give a heavenly and unique taste to this sausage.
Among the many types of cheese usually served in a tagliere rustico, pecorino is by far the most traditional. Pecorino is characterized by a strong, pungent flavor and it is produced in many varieties all over the region. Without a doubt, the most appreciated type is pecorino of Pienza, a cheese prepared with unpasteurized milk from the Montalcino area. The cheese is covered in olive oil to maintain its softness over time.
Marzolino is a rare type of pecorino cheese to enjoy in Tuscany. This type of pecorino is produced with vegetable rennet obtained from artichoke flowers, therefore it doesn't only boast a unique taste, but vegetarians can also consume it.
First Course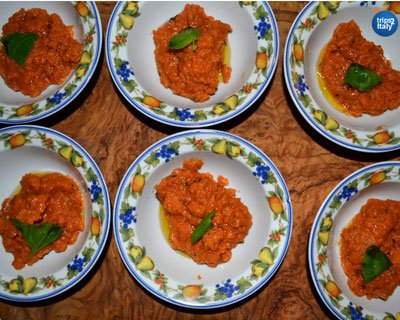 Similar to the appetizers, the Tuscan first courses are simple yet delicious dishes. There are countless options to choose from, varying from traditional soups that in many cases are more similar to stews, to ragù and pasta in all of its various forms.
A traditional first course appreciated by locals is Pappa al Pomodoro, a traditional dish in Chianti area. Pappa al Pomodoro is inspired by the peasant tradition of using the leftovers, and the main ingredient of the soup is the Tuscan stale bread. The bread is simmered in vegetable broth with tomatoes, garlic, basil and extra virgin olive oil and it is served hot or cold depending on the season. This simple yet exquisite soup is a favorite in the region.
Ribollita is another traditional Tuscan first course made of stale bread and vegetables. Ribollita doesn't have a universal recipe and it is made with any type of vegetables. Nevertheless, in the Florence area, the main ingredients of this dish are beans, potatoes, cabbage, tomatoes, and black cabbage.
In Livorno and Viareggio areas, a popular first course is Cacciucco, a traditional fish soup. The original recipe requires the use of thirteen species of fish, although the locals usually use only six or seven types of fish that can vary based on what was caught during the day. Cacciucco doesn't have precise ingredients but it usually contains cephalopod and bivalve mollusks, cliff fish, small shark squads and crustaceans.
Pici is considered the traditional pasta in Tuscany. Made of flour, water, and salt, pici are similar to spaghetti but are characterized by a squared shape. They are usually served with grated cheese and an abundant of fresh ground pepper.
Another popular pasta in Tuscany is Pappardelle, a long pasta made with eggs and flour that is similar in shape to a ribbon. Pappardelle is usually served with ragù made of game, such as wild boar or hare.
Apart from these types of pasta, stuffed pasta, such as tortellini, is also popular in Tuscany.
Main Course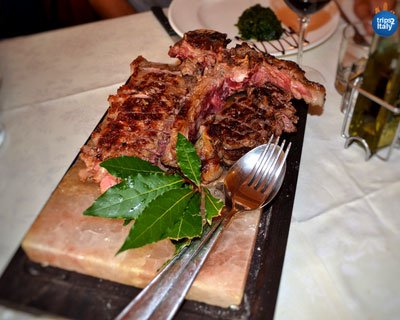 Featuring meat as the main ingredient, the Tuscan main courses combine the traditional "Cucina Povera" with noble ingredients such as truffles and other prestigious ingredients.
Without a doubt, the star among the Tuscan main courses is the Florentine steak, called Fiorentina by the locals.
Fiorentina is a piece of beef sirloin steak with a thickness of at least 5 centimeters that comes with the T-shaped bone attached to the meat. The steak is grilled and served rare, the high-quality meat literally melting in the mouth. For an ultimate taste, try a Val di Chianina ox Florentine steak, a cut of meat obtained from a rare breed of bovine originally bred only in Val di Chianina area.
Other popular main courses in Tuscany are game stews. A characteristic Tuscan stew is made of boar meat marinated in wine, then slowly cooked with tomatoes and black olives and served with polenta or freshly baked bread.
Grilled sausages, especially those made of Cinta Senese meat, are also a traditional main course in Tuscany. Cinta Senese is a rare breed of swine bred exclusively in Tuscany, and this meat is impossible to taste elsewhere in the world.
In the Livorno area, a famous main course traditionally prepared for Christmas is the baccalà alla Livornese. Baccalà is dried codfish covered in salt that is rehydrated and cooked with garlic, tomato sauce, black olives and parsley.
Lastly, trippa alla Fiorentina is a simple and easy to make main course made of tripe, bread, legumes, and wine.
Side Dishes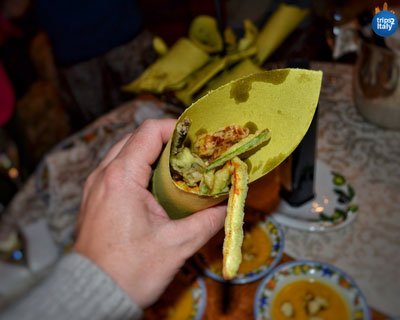 Tuscan side dishes also have their roots in the local "Cucina Povera" that uses vegetables and legumes as main ingredients.
By far, the most famous Tuscan side dish is Fagioli all'Uccelletto, an ancient recipe of slowly cooked beans with sage leaves, tomatoes, salt and extra virgin olive oil. The beans are cooked for at least three hours in a typical terracotta pot in a wood-burning oven.
Another traditional side is the Tuscan artichoke, a recipe based on simplicity. Artichokes are simply cut into four and simmered for about 30 minutes in water with olive oil and parsley. Although simple, the result is extremely tasty, and this side dish is perfect to pair with the Florentine steak.
Grilled vegetables are also popular side dishes in Tuscany. Most of the time the vegetables of choice are the aubergines, tomatoes, peppers, and zucchini. An alternative to the grilled vegetables is the grilled corn cob, usually served with butter. Potatoes are rarely grilled but Tuscans usually bake them in the burning coals. In fall, grilled porcini mushrooms take center stage.
Fried vegetables are also popular in the region. The choices are endless and vary from cabbage to potatoes, zucchini, cauliflower, artichokes or pumpkin flowers. The vegetables are battered then fried in extra virgin olive oil and served hot.
Other delicious side dishes include roasted potatoes or cold salads, usually made of seasonal vegetables. A tasty salad to try during winter is made of spinach leaves, fennel, and oranges, but there are many other delightful choices as well.
Desserts
Tuscany has a few famous sweets specialties that, similar to the other foods, are inspired by the "poor" Tuscan cuisine.
A Tuscan dessert that stands out is the delicious Castagnaccio. Chestnut trees are typical to the region, and chestnuts are the main ingredient of this exquisite dessert of humble origins. Castagnaccio is a type of pie cake prepared with chestnut flour, nuts, pine nuts, raisins, rosemary and extra virgin olive oil. Usually served with chestnut honey, this delightful sweet treat pairs perfectly with many varieties of Tuscan wines.
Panforte di Siena is one of the most famous Tuscan desserts. Traditionally baked in the Christmas season, this sweet treat has ancient origins and it is made with flour, honey, candied fruits, almonds, ginger, cinnamon, and nutmeg. Although original to Siena, Panforte is now prepared almost everywhere in Tuscany.
A delicious dessert to pair with Vin Santo, a Tuscan type of sweet wine, is Cantucci. Cantucci are almond biscuits, and the habit of consuming them with Vin Santo dates back in the ancient times when peasants couldn't afford to waste food, therefore they dipped the stale biscuits in the sweet beverage to soften them before consumption.
Nowadays, the biscuits are served freshly baked, but the tradition of immersing them in the wine still continues.
A dessert characteristic to the Lucca area is Buccellato, a sweet bread of Roman origins. In fact, the dessert gets its name from the bread eaten by the Roman soldiers, called "buccellatum" in Latin. It is extremely simple, with raisins as the main ingredient.
One of the most decadent cakes in the region was invented by Bernardo Buontalenti, the father of ice cream, and it is called Zuccotto. The cake is made of sponge cake filled with ricotta cheese, cream, and cocoa and the taste is simply heavenly.
Lastly, an exquisite sweet treat in Tuscany, especially in Pisa area, is Torta coi bischeri, a delicious pastry pudding filled with chocolate, rice, and nutmeg.
Street Food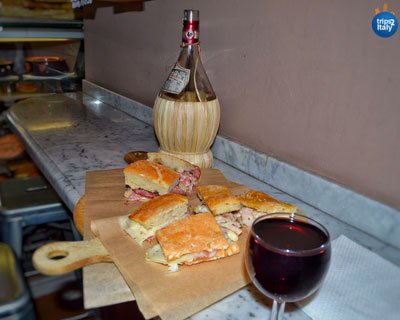 In Tuscany, street food is nothing but an adaptation of the traditional dishes to the frenetic modern lifestyle. Every city, town, and village in Tuscany has their own traditional street foods, and it is easy to taste the local cuisine without eating in a traditional restaurant or trattoria.
By far, the most popular type of street food in Tuscany is panino, a type of sandwich made with the characteristic Tuscan bread that is filled with literally anything, from traditional salami and prosciutto, to cooked food such as tripe or lampredotto, a typical dish made of slowly cooked pieces of cow stomach.
Porchetta, literally roast pork, is another popular filling for the Tuscan panino, and many shops sell their own versions of this classic.
Another popular type of street food in Tuscany is pizza in cono, basically, a slice of pizza rolled up in a cone of brown paper. Varying from simple Margherita slices to slices of pizza with porcini mushrooms, ham, or even truffles, this type of street food is delicious and inexpensive.
In Livorno and other seaside areas of Tuscany, a traditional street food is frittomisto, namely a large cone of paper filled with fried fish and seafood nuggets, fried vegetables or a combination of these. The locals enjoy this street food just as much as the tourists, and it is easy to spot them tasting the delicacies while sipping a glass of Tuscan white wine.
In the Livorno area, another popular street food is cecina. Similar to a pancake, this dish is made of chickpea flour, fried and served on its own or in a panino.
Wines
Without a doubt, Tuscany is one of the most important wine regions in the world. Some of its most famous wines are those produced in the Chianti area, but the region counts numerous varieties of wines produced in the countless wineries of the region.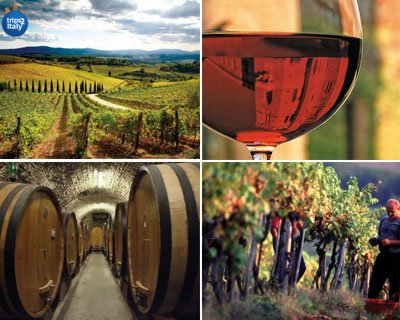 Tuscan viticulture is certainly one of the most representative in Italy. Vineyards are distributed mainly on the hilly and mountainous terrains where the climatic and geologic conditions are optimal for the maturation of grapes. The most famous vineyards are essentially the Chianti hills, located in central Tuscany, Mugello area in the north of the region, Val di Chiana in the south, as well as the coastal strip.
Thanks to the numerous vineyards, Tuscany boasts 39 controlled origin (DOC) wines and 11 controlled and guaranteed origin (DOCG) wines.
Perhaps one of the most famous red Tuscan wines is Brunello di Montalcino, a wine produced in a small territory and made from Sangiovese Grosso grape variety. The structure and body of the wine are unique, with the exceptional flavors and aromas being the result of a long aging process.
Rosso di Montalcinois another appreciated red wine, closely related to Brunello. Made from the same type of grapes, this wine usually has a shorter maturation period yet it maintains a distinctive bouquet.
A red wine that pairs perfectly with Tuscan desserts is Moscadello di Montalcino, made from Muscat grapes.
The Nobile di Montepulciano wine is a red wine obtained from a variety of Sangiovese grapes, called Prugnolo Gentile by the locals and that is specific to Montepulciano area. Defined as the "king of the Tuscan wines," this red wine has a distinctive flavor that conquered amateurs and connoisseurs alike.
Tuscan white wines didn't enjoy a great prestige until recently, maybe because most of them were obtained from the so-called low-quality varieties of grapes, such as Malvasia and Trebbiano. Nonetheless, Vernaccia of San Gimignano is the proof that Tuscan white wines are a true delicacy. This wine is obtained from the ancient Vernaccia grape variety, and it is one of the DOCG wines of the region.
From the Vermentino grape variety are obtained other appreciated white wines such as Sauvignon Blanc, Sauvignon Gris, Chardonnay, Pinot Blanc and Pinot Gris.
Lastly, Vin Santo is a traditional Tuscan white wine obtained from partially dried Malvasia and Trebbiano grape varieties. The wine is produced in oak barrels and is a sweet wine that pairs extremely well with all Tuscan desserts.