Tuscany Culture
---
Tuscany is known by many names, but perhaps the most famous is "The Heart of the Renaissance." Almost synonymous with picturesque hills nestled against a golden sky, the name "Tuscany" itself brings up universal feelings of joy, created by the beauty of the region's unparalleled natural landscapes, the rich wonder of its long history, and intriguing magnetism of its vibrant culture. Characterized by the wealth of art, architecture, and culinary delights to be found within the region's borders, Tuscany's culture has captured the hearts of millions through the centuries.
Tuscany's ability to seamlessly, and somewhat magically, fuse the present and the past is mesmerizing. A walk through one of the region's cities feels like a stroll through an ancient storybook, with architectural wonders that are still intact and almost perfectly preserved from centuries gone by. It's easy to get a sense of what it might have been like to live in the days of the Middle Ages, Roman times, or Etruscan Ages. Captured in nearly every aspect of Tuscany's culture is the value of the past and how it has shaped the region, the country, and the world.
Art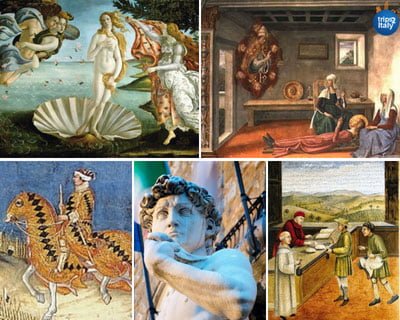 Art is an integral part of Italian culture in general, but it has flourished in a major way throughout Tuscany's long history, solidifying Tuscany as a hotspot for artists the world over. Historically, art became such an essential aspect of the Tuscan culture due to the presence of rich, noble families throughout Tuscany's major cities. The Medici family in Florence, the Gherardesca family in Pisa, and the Piccolomini family in Sienna were influential in cultivating a culture that valued high quality art. In addition, the scenic views created by Tuscany's landscape served as inspiration for up and coming artists throughout history.
Both Michelangelo and Leonardo Da Vinci, two of the world's most well-renowned and celebrated artists of all time, were born and raised in the region of Tuscany. Michelangelo, born in Arezzo, had a deep bond with Tuscany and its natural beauty which influenced his art. Those in Florence can experience this beauty firsthand and also see Michelangelo's famed statue of David, which is preserved in the Galleria dell'Accademia. Leonardo Da Vinci, born in the small town of Vinci (hence his name, which literally translates to "from Vinci"), created possibly the most well-known pieces of art ever created- the enigmatic Mona Lisa and iconic Last Supper fresco. In addition to these greats, workshops held throughout the Renaissance, known as "Botteghe" were held, giving life to some amazing painters such as Piero Della Francesca, Giotto, and Cimabue. With artists of this caliber calling Tuscany home, it is no wonder why artists to this day consider Tuscany to be a place of artistic magic.
Throughout Tuscany's history, many well-known styles of art were formed. It was Tuscany in which Giovanni Fattori created "Macchiaioli", a style of painting that would take over the region and set the tone of impressionist art in the coming centuries.
Museums throughout Tuscany house art pieces that have influenced painters for centuries, and the region's stunning landscape views remind modern day travelers where all the great artists received their inspiration. The best of art in Tuscany can be seen in the Museo del Bargello. Located in Florence, this National Museum is one of the oldest buildings in Florence. It houses some of the best sculptures of the Florentine school. Artists such as Michelangelo, Cellini, and Donatello are featured here.
Architecture
Tuscany boasts an extraordinary collection of architectural wonders. From buildings so well preserved they look as if they were transported directly from the past, to landmarks that highlight important cultural events and traditions, to seven UNESCO designated World Heritage Sites, the architecture housed throughout the region of Tuscany is nothing short of magnificent.
A keen facet of Tuscany's culture architecturally is the abundance of Medieval structures offered and the level of quality in which they are preserved. The Medieval influence can be experienced in locales such as San Gimignano, Lucca, or Monteriggioni. In San Gimignano, a series of ancient towers stand in such a way that they are reflective of modern day skylines, yet their architecture is so indicative of the world in which they first stood. In Lucca and Monteriggioni, defensive walls of Medieval castles still stand, allowing people to walk the same walls that ancient guardians would stand on to protect the castles' perimeters.
Other iconic architectural masterpieces such as the dome of Santa Maria del Fiore in Florence, realized by famous Florentine architect Brunelleschi, and the Torre del Mangia and the Cathedral of Saint Mary of Assumption, both located in Siena, truly capture the essence of iconic Tuscan architecture.
Food & Wine
With lands that are rich and fertile, a climate that is mild and tempered, and a culture that values simple pleasures in life, the culinary culture in Tuscany is a key component to the region's identity. Characterized by the use of simplistic yet flavorful ingredients, Tuscan cuisine is both elegant and rustic, often comprised of elements that were harvested straight from the land. Hearty pasta dishes, fresh produce, local fish and meat, and high-quality olive oil crafted from locally grown olives all combine to create a culinary experience that is truly Tuscan.
To pair with the many delectable dishes, Tuscans serve top notch wines created by the region's experienced and seasoned wine makers. Home to Chianti and Montalcino, two of the world's most highly regarded wine regions, Tuscany's culture is heavily influenced by their sprawling wineries and the top shelf wines that are created there.
Science, Literature, Music, & More
As a location that is so heavily defined by its ability to inspire and stimulate, it is no question as to why so many great scientific, artistic, and creative figures of history got their start in Tuscany. The father of modern science, Galileo Galilei, was born right in Pisa. Antonio Meucci, an inventor who created the telephone with Alexander Graham Bell, hailed from Florence. Dante Alighieri, the masterful author, was said to have taken great inspiration from Tuscany's landscape to create his masterpiece the Divine Comedy. Giacomo Puccini, who composed some of history's most important operas, such as La Boheme, La Turandot, and Madama Butterfly was also Tuscan born. Roberto Benigni, Oscar-winning filmmaker, was born in Manciano La Misericordia, and filmed "La Vita e' Bella" in Tuscan cities such as Arezzo, Castiglion Fiorentino, and Cortona. With the many historic and famous creators who call Tuscany home, it's clear that there really is something magical about the region that cultivates such wondrous creativity.
No matter where one chooses to take an Italian vacation in Tuscany, there are rich cultural traditions and sights to take in. A hub for cultural activity, Tuscany is a rare jewel in which the Renaissance is very much still thriving.