The gorgeous Lake Como area is filled with a natural beauty that vibrates with the hum of activity and enjoyment of life.  Residents of the area tend to take life a day at a time, move at a more leisurely pace, and savor their meals amongst the company of good friends and family.
The sparkling blue waters of the lake are the focus for much of the town's activities, as well as its cuisine.  Many of the freshwater fish caught in Lake Como are cooked, dried, baked, or fried and served in a number of unique local dishes.
The rolling green hills and mountains adjacent to Lake Como are home to olive tree groves as well as fresh fruits and vegetables that are used to compliment much of the local cuisine. These homegrown flavors are an integral part of the area's fare and part of what makes mealtime such a true delight for the people of this area.
APPETIZERS
Tomato salad, often referred to as insalata caprese, is a lighter fare that is anything but light on taste.  It is a perfect blend of superb finds from local farmer's markets such as freshly grown tomatoes, homemade mozzarella, and a variety of herbs and spices.  Freshly pressed olive oil from the area is often generously drizzled on top.  It is not uncommon for this dish to take on a slightly different presentation and unique flair depending on the dining establishment.
Polenta is widely used in a variety of dishes around Lake Como.  Cornmeal based polenta tends to be eaten more frequently than pasta and can be served baked, fried, hot, or cold.  Because of its versatility, polenta is most often served as an appetizer or side but can be used as a main ingredient in heavier fare.
The pristine fresh waters of Lake Como are home to a variety of fish.  Shad, similar to a herring fish, is caught from the lake, typically sun-dried and thoroughly salted before being hung to dry.  This delicacy is usually served with bread accompanied by spices and a splash of olive oil.
FIRST COURSE
Pizzoccheri is a popular pasta dish made primarily of buckwheat flour and a small amount of wheat flour. This tagliatelle, or flat, thin pasta, is fairly easy to make and is best when eaten within a few hours of production.  The pasta is combined with greens, potatoes, or other locally grown vegetables, sprinkled with flavorful herbs and spices, and sometimes layered with pieces of locally made cheese.
Farfalle ai funghi porcini is a heartier Italian dish.  Porcini mushrooms are sautéed with garlic, onion, and olive oil and the mixture is then served over butterfly pasta.  Parmesan cheese and butter may be added to yield a creamier, and more decadent consistency.
SECOND COURSE
Veal Milanese, or cotoletta alla Milanese in Italian, can be found throughout the area. Although traditionally a bone-in veal cutlet is breaded and then fried, more modern restaurants may serve a boneless cutlet topped with lemon juice.  A variation of cotoletta can be traced all the way back to the twelfth century and today is served throughout much of Europe with a number of variations in the type of meat used and preparation style.
Osso buco is Italian for bone with a hole, a nod to the marrow hole of a veal shank used in this hearty dish.  To begin, the cross-cut veal shank is typically coated with flour before browning in butter or lard.  After browning, the meat is braised in a mixture of broth, white wine, and vegetables.
Often served alongside osso buco is risotta alla Milanese.  Onion is typically sautéed in butter before adding rice to be lightly toasted.  A splash of wine gives excellent flavor to the sautéed mixture.  Once the wine has cooked off and evaporated, a flavorful liquid such as chicken stock is added.  Upon serving, it is very common that this dish be topped with a hearty cheese such as Parmigiano–Reggiano.
As much of Lake Como's culture and activities are focused on the water, so is the cuisine.  Fish is a staple of the area with the most popular fish considered to be lavarello, but other often consumed fish include shad, perch, pike fillets, maltagliati, tench, and eel.  The fish offerings are the same throughout the many towns of Lake Como, but each place generally has a unique way of preparing the fish.
A popular fish based fare is fritto misto di lago.  Essentially this dish is a fried mix of lake fish often eaten by locals.  This dish typically stands alone but can be served with vegetables.
Busecca, sometimes better known as tripe, is often a traditional Christmas dinner amongst the residents of Lake Como.  What visitors may not know is that tripe is part of a cow's stomach.  Historically, the dish was eaten by farmers on special occasions such as the Christmas holiday.  Busecca is usually a combination of sautéed vegetables, spices, and tripe.  Once the mixture is browned, tomato sauce and some water can be added to keep it from drying out.  Some variations include the addition of beans.  This dish is usually served with bread and a generous helping of cheese sprinkled on top.
STREET FOOD
Pizza is widely popular in Lake Como and throughout much of Italy.  It is highly unusual for any two pizzas to be the same as every area adds their own unique touch to the dough taste, preparation, and toppings.
Other street foods you might find along Lake Como include misultin, polenta e brasato, piadina, arancini, and arborelle fritte.  Misultin with polenta is a sun-dried agoni lake fish that is salted for added flavor. Polenta e brasato is most often a combination of veal, polenta, butter, vegetables, various spices, and olive oil. Piadina is a thin and delicious flat bread of sorts and arancini is fried rice balls that have different fillings. Festivals often feature arborelle fritte (fried lake fish) in paper cones to facilitate eating on the go.
While there are some street foods available in Lake Como, the people of the area prefer to sit down with friends and family to feast on traditional table foods indigenous to the area.
DESSERT
As rich and hearty as the traditional cuisine of Lake Como can be, no dining experience is complete without an authentic Italian dessert.
One of the more popular desserts of Lake Como is homemade gelato, or ice cream.  This creamy frozen treat is often served with fresh strawberries and many other delightful flavor combinations.  Whether savoring your gelato at the dinner table or while walking through the charming streets of Lake Como, the gelato is not to be missed.
Frittell di mele, also known as apple fritters, are a favorite in the area, especially during the Christmas holidays.  Fresh apple slices are fried in a mixture of egg, milk, sugar, salt, and flour.  This sweet treat is best enjoyed when served warm with powdered sugar and cinnamon.
Mataloc is popular sponge bread or cake that is a staple during the holidays.  The dough is typically made of flour, honey, yeast, as well as zest from oranges and lemons.  After the dough is prepared a fruit and nut mix generally consisting of hazelnuts, pecans, dried figs, and raisins is added.
Miascia is a traditional peasant sweet bread from Lake Como.  The bread is usually made with stale bread, crushed amaretti cookies, nuts, raisins, apples, and pears.  As with many things from this area, different variations abound, including some that incorporate chocolate and crumbled macaroons.  This dense, sweet treat is often enjoyed with a cup of coffee or dessert wine.
La Cutizza is another traditional dessert of the area.  Typically made of flour, eggs, vanilla, and lemon zest, the batter is fried one side at a time in a frying pan.  The final product is a very thin, crepe like dessert that is often sprinkled with vanilla flavored sugar on top.
Another popular bread of Lake Como is masigott.  The cake like dessert combines the flavors of buckwheat, eggs, pine nuts, and candied oranges for a unique tasting sweet treat.
WINE
One of Lake Como's finest wines is Valtellina Superiore, a fine light-bodied red wine.  This wine undergoes a minimum of two years of aging, some of which is done in oak barrels.  Other often requested wines include Lombardy's Franciacorta white wine, as well as Sorsasso's and Domasino Bianco's whites, reds, and rosés.
To complete any Lake Como dining experience, pull up a chair, bring friends and family, and linger over amazing food and good company all amidst a breathtaking view of the lake and land.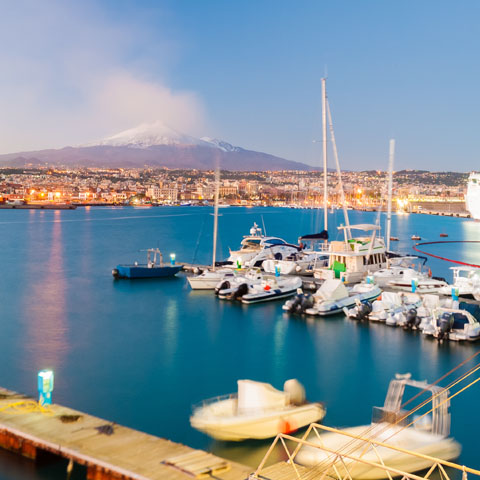 Dear Ana and Tommasso, We want to thank you for the wonderful customized trip to Sicily. It was a trip of a lifetime and a dream come true.