Often regarded as the most idyllic waterfront destination in all of Italy, the Lake Como area surrounds travelers with fairytale-like views including sparkling waters, lush gardens, and majestic villas covered with ivy, all set against a majestic, mountainous backdrop. A dreamy paradise, Lake Como's landscape pairs the manmade and calculated with the wild and natural to create a fusion of manicured gardens set against free-growing vineyards, orchards, and groves. Considered by everyone from scholars to artists to celebrities as a timeless destination – one that evokes an air of old-time authenticity and undeniable beauty – Lake Como attracts tourists from all over the world. While Summer crowds can take away some of the vintage feel, the spirit and character of the area is never diminished. Travelers to Lake Como come for the views of the elegant villas and spectacular nature but stay for the local charm, lakeside restaurants, and romantic atmosphere.
Nearly 30 miles long and one of the deepest lake in Europe – 1,350 feet – Lake Como has been heralded as a "Garden of Eden" of sorts for centuries. Its characteristic "Y" shape not only makes this glacier basin recognizable worldwide but also lends a wide variety of views, weather, architecture, and landscape to be experienced along its shores.
Travelers can take boats, car ferries, and vaporetti(water buses) to explore the lake's villages. Main towns such as Bellagio, Cernobbio, Tremezzo, Varenna, and of course, Como all offer breathtaking scenery, unique activities, shopping, sightseeing, and more.
GEOGRAPHY & CLIMATE
Located in the Lombardy region of Northern Italy, Lake Como is the most renowned lake on the Italian peninsula, despite being the third largest. Though Lake Maggiore and Lake Garda are larger, Lake Como's status as the most gorgeous and deepest lake in Italy has contributed to its achievement of becoming the country's most popular and most traveled lake. Fed primarily by the Adda River, its near 100 miles of shore feature lush flora, staggering rock formations, unspoiled farmland, and views of the Italian Alps.
In terms of weather, Lake Como is categorized as a humid subtropical micro-climate. Despite being located North, expect an almost Mediterranean climate with a mild and pleasant temperature nearly every season. Rainstorms are common on Summer nights, and snowfall in the Winter is unpredictable and limited primarily to the areas with the highest elevations. This unique climate for the area allows for a variety of vegetation to thrive, including trees such as laurel oak, cypress, evergreen, juniper, spruce, and most notably – olive. In fact, olive trees are so prevalent that the area near the Isle of Comacina, near the lake's Western arm, is called Zoca de l'Oli, or "Basin of Oil."
The most characteristic aspect of Lake Como's climate is its breezes. Travelers will notice an almost constant breeze in the area, occasionally growing into medium or even strong winds. The lake's position between the Alps and an area known as "pre-Alps" lends itself to these winds, which are so consistent and steady that local captains, fishermen, and sailors can count on common winds called the Larian Nautics. Interruption to the schedule of key winds, like the Tivano – which blows North to East during early hours of the morning – and the Breva – a wind which blows from the South specifically between 10:30AM and 11:30PM – serve as signs to the locals of impending storms.
WHEN IN THE LAKE COMO AREA
When visiting the Lake Como area, travelers can get the most out of their time there by exploring the lake's vast shores and visiting the iconic villas which dot the lake's edges.
One of the best ways to experience the towns and villages alongside the lake is by driving. Whether atop an Italian motorcycle, zooming in a classic Vespa, or riding in a Fiat 500, travelers can drive from village to village, taking in all the wondrous scenery along the way. Visit the lake's namesake city, Como, which sits on the western arm of the lake. Not far from Milan, Como features an incredible historic center. On the Eastern arm of the lake, be sure to stop in Lecco – the lake's main city. Other great places to visit include Abbadia Lariana – a quaint and lovely town featuring a small shipyard – as well as villages such as Bellagio, Tremezzo, Varenna, Colico, and Gravedona.
To truly take in the prestige and luxury of Lake Como, travelers must make time to visit the many villas along the coast. For hundreds of years, it is these stunning villas – characteristic of the romantic history of the area – that have attracted the likes of royalty, celebrities, and influential artists to the shores of Lake Como. In Cernobbio, key villas are Villa Erba and Villa d'Este – both of which display a classic style of architecture. Villa Carlotta, located in Tremezzo, features a stunning botanical garden as well as a museum which features works by Thorvaldsen, Migliara, Canova, and Hayez. In Lenno, explore the Villa Del Balbianello, famous for both its terraced gardens and appearances in such films as "Casino Royale", "Star Wars: Attack of the Clones", and "A Month by the Lake."
Each of the lake's many villas and towns feature stunning examples of architecture and artistry of Lake Como's historic past, amidst the unparalleled landscape that has made the area so legendary.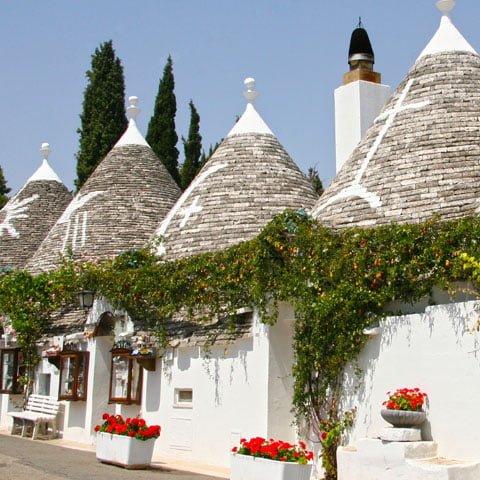 "Ciao Tommaso and Giulia, we have a wonderful trip. From Alberobello, Pade Pio, Monte S.Angelo, Sorrento, Capri, Amalfi, Ravello and more to see and do, you have plan everything."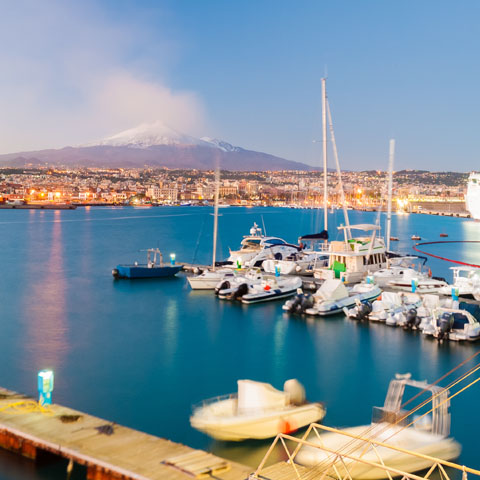 Dear Ana and Tommasso, We want to thank you for the wonderful customized trip to Sicily. It was a trip of a lifetime and a dream come true. Everything about the trip was perfect, including having Tommasso along with us. This was definitely a trip we will never forget.....it was perfect. TRIPS2ITALY is great and we would definitely recommend your agency to anyone wanting to see beautiful Italy and Sicily.