Shopping in Milan
Dubbed the "Fashion Capital of the World" by the Global Language Monitor in 2009, Milan beckons fashion lovers with its abundance of fashion influence and shopping opportunities. The city ranks with the world's most prominent fashion locales such as Paris, New York and London, housing some of the world's greatest designers, including: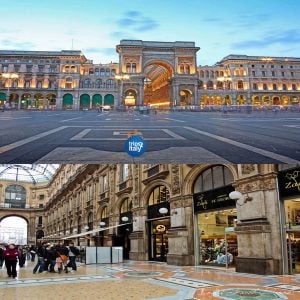 Giorgio Armani
Gianni Versace
Domenico Dolce
Stefano Gabbana
Miuccia Prada
Given the high-fashion and even higher priced brands that call Milan home, travelers may be surprised to hear that Milan's shopping scene offers a bit of everything – no matter one's budget. Shopping in this fashion capital can mean browsing the most expensive designer brands one minute and snagging lower priced steals from the outlets the next. Despite being a center of the industry, Milan has managed to avoid being overrun by tourists, making it a hidden gem for those looking to immerse in the culture of fashion.
Designer Shopping
Italy is the first place that most major haute couture fashion begins. As the home of so many incredible fashion houses and designers, Milan is an epicenter for designer shopping.
The historic shopping mall, Galleria Vittorio Emanuele II, features Prada's flagship store, which was opened in 1913. More recently, designers like Louis Vuitton and Gucci have opened shops there. As one of the oldest shopping malls in the world, this stunning arcade dazzles with its glass roof and dome, as well as with its fashions.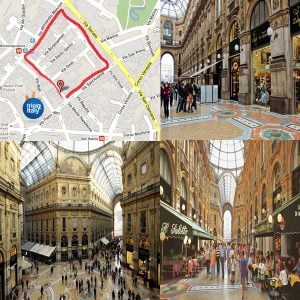 Quadrilatero d'Oro
Fashion lovers absolutely must visit the Quadrilatero d'Oro when in Milan. Known as the "golden shopping rectangle," this area of town is comprised of four streets (Via Montenapoleone, Via della Spiga, Via Manzoni, and Via Sant'Andrea) which boast the best couture shops. Hands down the most chic and elegant shopping area of the city, the Quadrilatero d'Oro is where the rich and famous come to shop.
Designers in the Golden Rectangle
Unlike Paris, which features a sprawling fashion district, the majority of Milan's heavy hitters from the fashion world sit on the streets of the Golden Rectangle. It is there where one will find Gucci, Valentino, Cartier, Dolce & Gabbana, Versace, Louis Vuitton, Moschino, and four Giorgio Armani boutiques – one on each side of the rectangle.
Boutique Shopping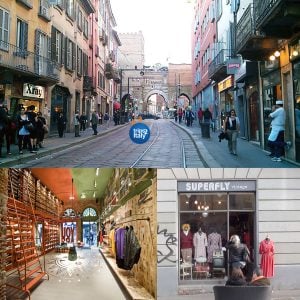 One doesn't have to be a celebrity to enjoy shopping in Milan. Throughout the city, smaller boutiques and alternative stores offer a variety of reasonably priced fashions and other goods.
On the street of Corso di Porta Ticinese, one will find a lot of vintage shops, featuring unique and one of a kind items, as well as mainstream stores such as Diesel, American Apparel, and Vans. Characteristic, niche shops can be found on Corso Vercelli, a popular shopping spot for locals. For immense variety, Corso Buenos Aires features the highest concentration of stores in Europe.
The Brera District
For a more laid-back shopping experience, visitors can stroll through the Brera District, a bohemian part of town filled with history, nature, art, and of course, fashion. Located north of the city's famous Duomo, this area is far enough from the tourist areas to be quiet and un-crowded but close enough for travelers to enjoy easily.
Shoppers will experience shops featuring fashions made in Italy, bookstores, art galleries, and more. Popular spots in the Brera District include Faliero Sarti, known for their gorgeous scarves, and Spelta Milano, retailer of stunning ballet shoes.
Brera Markets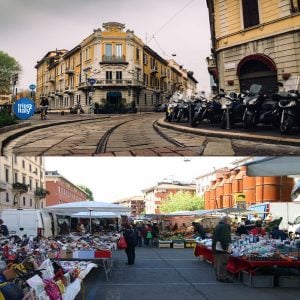 Along with boutique shops, the area also offers splendid open-air markets which feature handmade, unique pieces from local craftsmen. Markets not to miss include the one on Via San Marco, held Monday and Thursday mornings, and the one on Via Fauche', held Tuesday and Saturday mornings.
Outlet & Bargain Shopping
Filled with off-season gems, cast-offs from closed stores, and factory returns, the outlets of Milan allow shoppers to grab some incredible designer items at a much lower price – often discounted 50 to 70 percent off. The variety and quality of the Milan outlets are unlike anything bargain shoppers have experienced before.
Some of the best outlets include Il Salvagente, featuring a three-story selection and high end designer discounts, DMAG Outlet, perfect for the shopper who doesn't mind hunting for a great bargain, and the outlets near Corso Vittorio Emanuele II.
The best part of shopping outlets in Milan is that fashion in Italy is almost always a year or so ahead of the trends in the US and other places throughout Europe. One can get a "last season" item at a low price in Italy and it will be on-trend and fashionable once one returns home.
Other Ways to Bargain Shop
Popular, in-town outlets are not the only way to snag a bargain when visiting Milan. Travelers can also take a trip to tourist offices to grab flyers for nearby, yet out of town outlet malls and stores. These stores feature great prices and a huge variety.
If traveling during certain times in January or July, shoppers will delight in saldi (end of season sales), which are sanctioned by local government every year.
Lastly, amazing deals and a wide variety await at the local markets.
Markets
Though known for its high-end, designer shops, Milan features great markets that offer shoppers wonderful surprises and a break from the boutiques. The Fiera di Sinigaglia flea market is one of the city's most popular second-hand markets. Travelers can find amazing deals on designer items, often at better prices than the outlets. Another great market to check out is the Mercato Dei Navigli. Only held on the last Sunday of each month, this market features over 400 vendors.