Italy Special Need Accommodation
You've been wanting to plan a trip to Italy for years, and this year you are determined to make that dream come true. Although you won't let it stop you, some health issues or impairments have left you with a little less stamina or needing extra accommodations for wheelchairs, or walkers. You are worried about how much you will be able to do and see once you arrive in Italy.
As it is for most vacations, some destinations will be easier to navigate than others. However, many of Italy's cities are increasingly making accommodations for those who have difficulty getting around or require wheelchair accessibility. Vacationing in larger cities such as Florence, Rome, and Venice can be advantageous from the standpoint that there are so many things to do in one place that do not require a daily change of lodging and cross country transportation arrangements.
Regardless of where in Italy you travel, it may be quite helpful to enlist the help of a respected travel agent that knows Italy intimately. The agent will work with you to identify the places you would like to visit and even ensure that your lodging and planned activities provide the appropriate accommodations. Once you have communicated your travel needs and desires, let the travel agent take care of the meticulous planning and you can get back to dreaming of your next big adventure.
The romantic city of Florence is a fabulous way to spend your Italian vacation. This gorgeous city has a quintessential Italian vibe about it that simply exudes charm. Whether you choose to spend your time exploring the heart of the city or checking out some of the Tuscany wineries, Florence has much to offer.
Florence is a smaller city that has many things to see and do, making it seem much larger than it really is. The close proximity of most of the city's attractions is a particular bonus for those who are physically restricted.
Florence is a city with rich culture and a variety of museums. Whether you are visiting the Accademia Gallery, the esteemed Uffizi Gallery, or any of the city museums, most are able to accommodate those with difficulty getting around. The Accademia Gallery Museum offers a wide selection of art from renowned artists such as Sandro Botticelli, Domenico Ghirlandaio, and Michelangelo. The Uffizi Gallery is also home to a massive collection of art, including pieces from Botticelli and Michelangelo as well as Raphael and Leonardo da Vinci. To understand the history and inspiration behind these art exhibits, a guided tour is the best way to take in these two particular museums.
Florence is also home to beautiful city squares such as Piazza della Signoria, which typically feature interesting statues and water fountains. Also not to be missed during your time here are some of the city's open air markets where you can find some unique souvenirs. And no trip to Florence is complete without sitting at a street side café to enjoy a hot coffee and reflect on the day.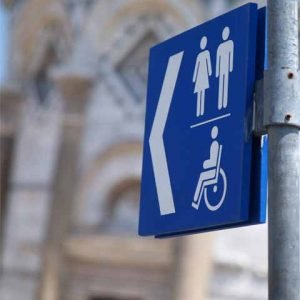 This ancient Italian city is one of the biggest in the country and is perhaps the most visited. There is a dominant characteristic of old world charm here evident in the cobblestone streets, famous ruins of the Roman Colosseum and Roman Forum, and the Vatican. The vast number of things to do here should be enough to fill a week's worth or so of activities, which allows those that are physically restricted to see Italy through Rome's eyes without having to change hotels or make special travel accommodations.
Some frequently visited sites in Rome such as the Roman Forum, the Pantheon, and the Trevi Fountain will likely be within reach for those who are physically restricted but may require advanced planning and a strong companion to push a wheelchair through the sometimes-challenging cobblestone roads and uneven areas. However, many of Rome's main attractions are becoming increasingly sympathetic to those with physical restrictions and are working to make appropriate accommodations.
While visiting some of Rome's ruins can present a challenge to those who are unable to walk or stand for long periods of time, the Colosseum hopes to soon change that. This ancient structure that is in many ways an icon of the city, is making plans for guests to be able to access an elevator to see the arena. This accommodation eliminates the need for physically challenged guests to navigate the stairs while still allowing them to see this grand arena where gladiators and wild animals once fought valiantly for their freedom.
Those requiring wheelchair or similar accommodations are also typically able to navigate the Vatican complex via designated entrances. This enormous religious complex is continuously one of the top stops on sightseeing tours in Rome. While here, enjoy the majestic beauty of St. Peter's Square, the wildly ornate St. Peter's Basilica, and the paintings in the Sistine Chapel. The traditions and artworks of the Vatican are so numerous and breathtaking, they are usually enjoyed over the course of a day.
If taking in some culture is at the top of your list for this vacation, don't miss the Borghese Gallery. This stunning art gallery that is home to a grand collection of famous sculptures is well worth the visit. The building is so majestic many tourists mistake the structure for an extravagant palace. From the luxurious and detailed design of the interior of the building to the art it houses, the gallery strives to make their treasures available via guided tours, at least some of which are wheelchair accessible.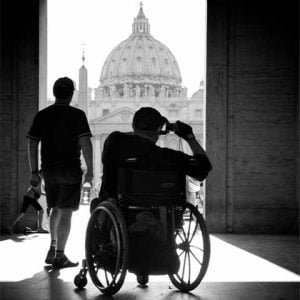 Venice is one of Italy's crown jewels and is frequently referred to as the city of love. Venice is actually made up of small islands that are divided by water canals and connected by beautiful stone bridges. While the layout of the city may sound daunting for those that are physically restricted or wheelchair bound, with some advanced planning it is possible to experience the allure and charm of Venice.
Outdoor cafes that sit waterside, charming neighborhoods and historical landmarks abound in Venice, making the city a favorite of many tourists, including the perfect Italy Honeymoon. With so many things to see and do here, tourists should have plenty to keep themselves busy for up to a week, if desired.
Fortunately, Venice has relatively even and flat terrain that makes getting around easier. While it is true that there are many bridges that connect one island to the next, there are some boats that are wheelchair friendly and can facilitate that same trip via the water.
St. Mark's Basilica is Venice's best-known church and a must-see during your time here. This stunning church is sometimes referred to as the Church of Gold because of the astounding number of golden Byzantine-style glass mosaics that the structure features. A guided tour of the basilica is one of the best ways to ensure that you don't miss a single detail of this glorious and reverent landmark in the heart of the city.
Located just next door is another key landmark, Doge's Palace. This museum within a palace features dozens of beautiful archways as part of its bright Gothic architecture. Inside the building Tintoretto's masterpiece, Paradise, hangs proudly in the Hall of Great Council. This enormous piece is considered to be the largest oil painting in the world.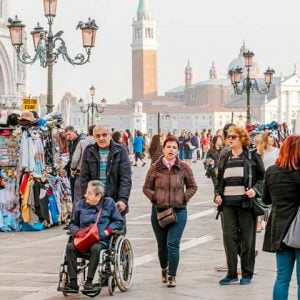 Do not let physical restrictions hold you back when it comes to making your dreams of an Italian vacation come true! Italy is a land of romance, rich history, and grand adventure that is waiting for you.