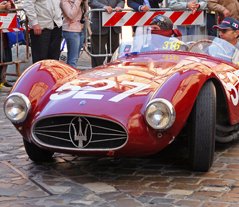 Lamborghini, Ferrari, Pagani, and Maserati….just the names of these manufacturers can leave any car lover salivating. The thought of seeing these cars, touching them, and witnessing just how they are made could drive any enthusiast up the wall. Motor Valley in Emilia Romagna is where these Italian cars and their history can be observed first-hand. Museums, factories, showrooms, and private collections can all be viewed for a show that is out of this world.
Let's not forget about motorcycle enthusiasts. Famous names such as Ducati, Bimota and Vyrus are just some of the names that will pique some interest. From sports bikes to luxury motorcycles, there is a wealth of information and exhibits to show some of the most sought after motorcycles in the world, from the wildly rich and famous, to those that simply have a love for bikes deep in their blood.
Motor Valley, although highly known for housing Italian history, is also known for its more lively actions. Raceways, restoration locations, and prestigious factories are also a big draw to this unique location. The most well-known raceways include Misano World Circuit and Imola Circuit, which house some of the largest international racing circuits in the world. Smaller tracks made for karts and motor bikes are also in the area, all filling up quickly for spring and summer events.
Vintage restoration is highly profitable these days. Many car enthusiasts love to find that one car that was a beauty back in the day and dream about returning it to its former glory. This can be a great hobby, or it can be a highly profitable business market. Motor Valley is known for its fabulous restorations, recreating some of the finest vintage cars in the area.
If you have a passion for motor sports, car restorations, or Italian cars, then Emilia Romagna's Motor Valley is a location you simply must visit. Nothing could compare to the museums featuring decade's worth of model cars, or factories producing the finest forms of vehicles. The past and present is merged together splendidly in a presentation that will forever be remembered.